See also: FAQ, Terms of Use and Privacy Policy.
Help Using Used.ca
Q. How long will my ad stay up for?
A. 30 days for all categories except for Events & Garage Sales, which is 14 days. After that, you will be sent an email (if you put an email in your ad) inviting you to renew. Renewed ads are placed back on the Latest Ads list.
Please note, pet ads may not be renewed. If your pet has not been rehomed within 30 days, please post a new ad and allow up to 48 hours for your pet ad to be reviewed and displayed.
Q. Are there any restrictions about what can be listed?
A. Yes, see the Terms of Use.
Q. I've forgotten my password, how can I retrieve it.
A. If you've put an email address into your ad and you remember the email address, click down to your ad and click 'Email My Password'. Otherwise send us a feedback and we'll phone it to you to the phone number in the ad.
Q. How do I get a password?
A. Actually, the password isn't assigned to you but assigned by you to the ad. In other words, you are determining what password is attached to the ad for editing it or deleting it later. We recommend you use the same password for every ad you enter although you can choose to make them different.
Q. Why doesn't my password work?
A. Maybe you've forgotten it (see 'I've forgotten my password'), or typed it in capitals when it shouldn't be (or vise-versa) or added a trailing blank (which you can't see) or added punctuation (which is not supported).
Q. Do I have to enter a telephone and/or email?
A. You must put in one or the other but we recommend both. Note that if you don't put in an email, we cannot send you an invitation to renew your ad automatically.
Q. How can I remove my ad?
A. Edit your ad and change the status from NOT SOLD to SOLD.
Q. Why doesn't my ad show up?
AA. Maybe your ad violates the Terms of Use or maybe you've violated the Terms of Use in the past and you've been blocked from using the site or maybe its on the second page (click the red 'Next 25' link to advance to the second page in your category).
Q. How can I save an ad so I can return to it later?
A. You can use your browser's bookmarking system. First, make sure you have clicked down to the ad (i.e. clicked its title). That page has a URL unique to that ad. Then, bookmark that page.
Or better yet!  Login and favourite the ads of your choice. You can then view all your favourite ads in one convenient spot.
Q. What should I do with my ads when I go on vacation?
A. If you are going away or any time you want to temporarily suspend your ads, you can put them on hold. You can do this by Editing your ad and changing the status to ON HOLD. When your ad is on hold it is removed from its category and from the keyword search but is still available to you from the MyAds link. When you return from vacation, edit your ads again changing the status back to NOT SOLD and they will reappear on the site (in about 10 minutes).
Site Navigation
Navigation Bar: At the top center of every page is a horizontal list of links.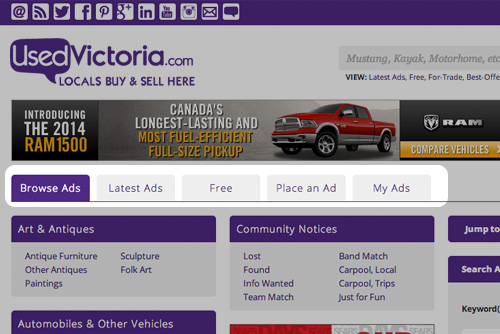 Browse Ads (Home) - take you directly to the home page. The Home page lists the top-level ad categories.
Latest Ads - shows recently posted ads across all categories.
Place an Ad - starts the steps needed to post your own ad for free!
My Ads - shows the details of all your previously posted ads for editing and deleting.
Browse ads
To browse for ads of a specific category you can click on the categories listed on the home page or 'Browse Ads' tab.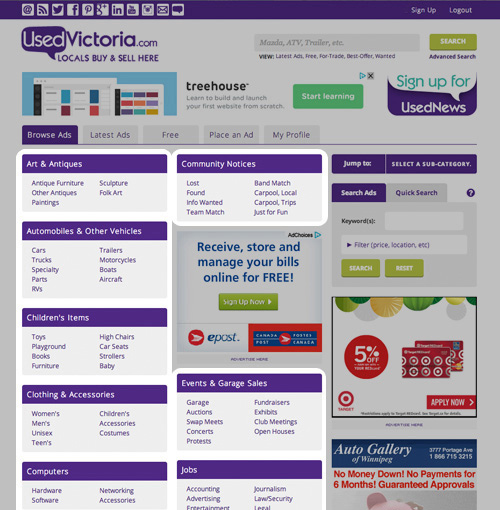 The first 25 ads from that category and from its subcategories will be displayed.
To narrow your search further click on a subcategory: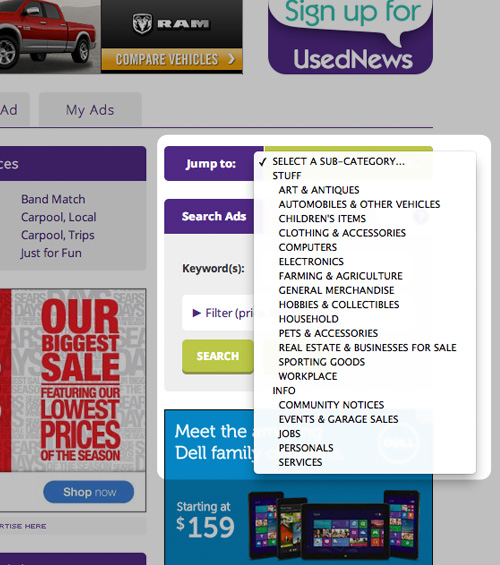 To browse all our ads by simply click on the 'Latest Ads' tab on the navigation bar.
Search ads
You can search by keyword, phrase or ad number from our search box located at the top right of our site.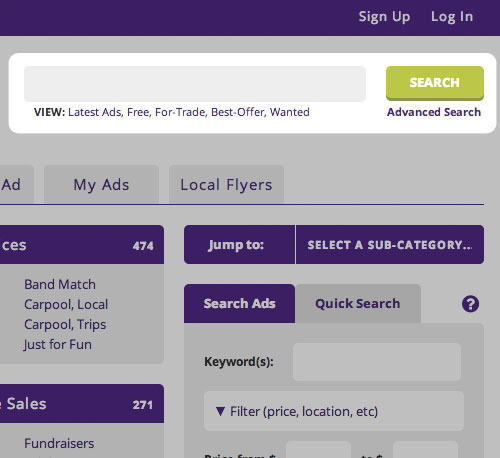 Note where you are on our site. If you are viewing ads in a specific category, using the search will only search for ads within that category. If you want to search through all categories, perform the search while on the home page or 'Latest Ads' page.
Smart Search (two forms):
Simple: Just enter the keywords, the more the better. For example enter honda civic hatchback instead of just honda. Ads with those three words, in any order, will be displayed.
Powerful: Use logical operators like & ('and'), | ('or'), ! ('not'). For example enter honda & civic & (si | sir) & !parts to find all ads containing the words 'honda', 'civic', either 'si' or 'sir', and not the word 'parts'.
Note that variations of a word like 'used', 'use', 'using', 'useful' will find each other. Capitalization is ignored. Some words are ignored, like 'the', 'as', 'a'. That's smart!
Advanced Search
You can preform a more refined search through the "Advanced Search" page as it provides you extra search fields to help filter out the ads you are looking for.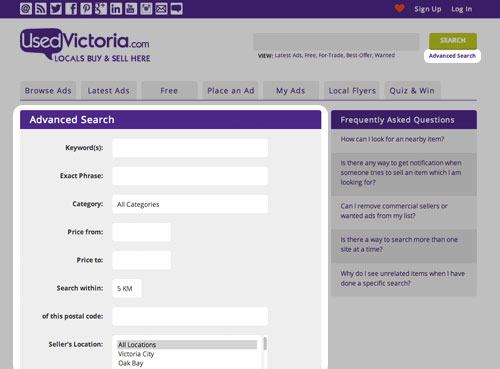 The basic options are:
Price range
Distance from the postal code provided (will only associate with ads that included postal code)
Locations (can select multiple)
Items offered for sale, or only items wanted, or both together (the default)
"Hide new goods" = used items only
"Hide commercial sellers" = private sellers only
"Hide outside sellers" = ads only from the local area (equivalent to choose all the locations except for the 'Outside City' location)
"Hide renewed ads" = ads posted within the past 30 days
"Show only free items" = FREE items only!
"Show only for-trade items" = for-trade items only
Note: Selecting a category when searching may provide extra search fields.
Category Search
When browsing ads within a category you are provided the Advanced Search options when you click the "Filter" button on the Search Ads tab. This search function works similar to the Advanced Search.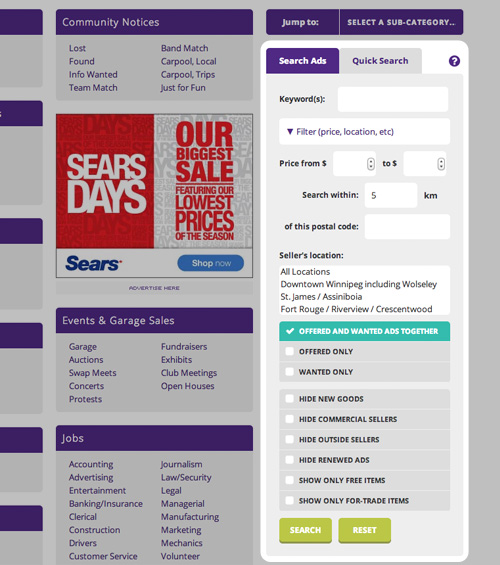 Note: When viewing certain categories, more specific search options will be provided.
ex: Automobiles, Cars, etc..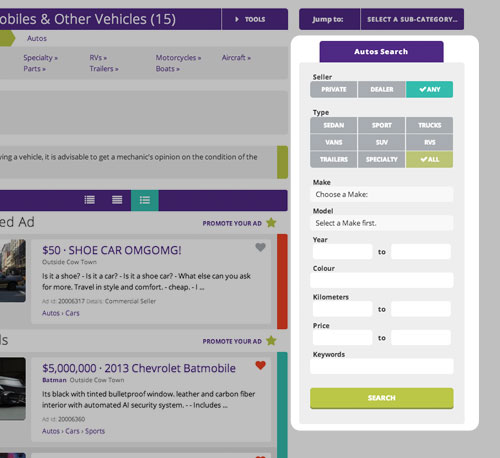 There are a number of predefined filters for you to choose from. Click the Quick Search tab within the search area then click one of the predefined filters.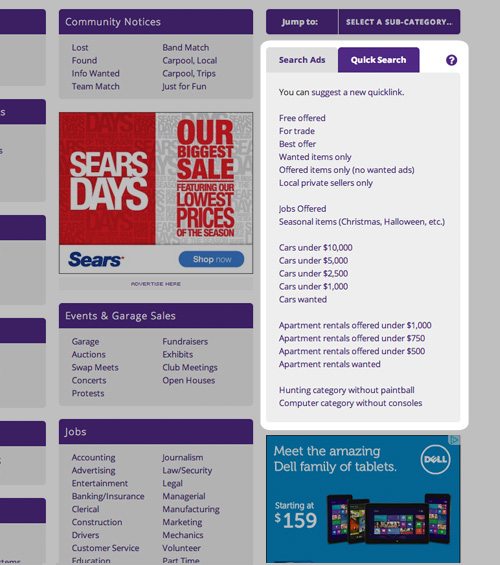 Ask a question of a seller
To ask a question of a seller:
First, browse to the ad and click on the ad title to see the details.
Then, either note the seller's phone number or click the link labelled Email Click Here: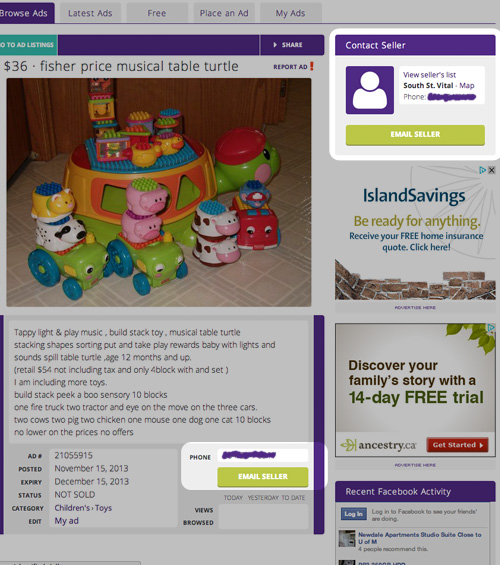 You are presented with an email form in which you can type your message.
Buy an item
To buy an item:
Contact the seller just as you would if asking the seller a question, and arrange to meet them to view the item.
Items containing expensive rechargeable batteries or ink or toner cartridges are always suspect, expect to have to replace the battery or cartridge and factor that into the price.
Always inspect and/or test the item fully before paying for it. If it can't be inspected or tested before the sale, just say no.
If the item is large and the seller offers to deliver but wants a deposit before delivery you run the risk of losing your deposit. Suggestion: meet the seller at the pickup location with the deposit and help the seller deliver it.
If you are buying tickets, be sure to ask for photo ID from the seller and note down their name and ID number in case the tickets were purchased with a stolen credit card.
Used.ca DOES NOT offer any sort of 'Purchase Protection' programme. If you are offered this, please report the ad immediately (with the ad id).
Example of an email sent by a scammer seller to a prospective buyer, don't fall for this:
I`m in Toronto. I will ship the laptop to you with UPS and you will receive it in max 2 days. You will have 5 days to inspect it and in case that you are not satisfied you can return it to me without any question.
Now if you are interested to buy it at this price ( $1500 ) send me your Full name and Adress , i will send you the product right away and the staff from Used.ca will contact you with all information that you need for payment and shipping.
Another scam - only deal with sellers in person:
Hello,

Thanks for being interested in buying my bike. It is in a good condition, no scratches, no damage, never been implicated in any accidents, no problems at the engine, runs very well. It has 5,2K Miles, a clear title, it's the perfect bike. The price is not negotiable, $4,800.00 firm(the price may be a little low but it seems fair to me). Reason for selling is that I have divorced my husband and after the divorce I own this bike. I don`t need it because I don`t have a driving license... We will use only eBay Vehicle Purchase Program to complete the sale. The bike will be shipped at my expense form Quebec, Canada.

If you are interested email me your full name and shipping address in order to proceed.

Kind Regards,
Lisa Burton
Report a bad ad
To report a bad ad:
If you see an ad that is offensive or a violation of the Terms of Use, please report it. You can do that by clicking down to the ad (i.e. click on the ad title if you aren't already there) then click the link 'Report This Ad!' at the top right of the ad.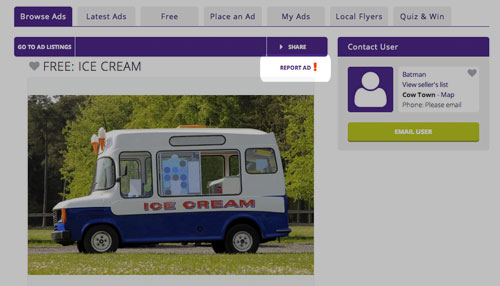 Uploading a resume and/or cover letter
An attachment may be included when you reply to ads posted in the Jobs category.
Please note, the file must be under 5 MB and one of the following types: .doc, .docx, .odt, .pdf, .ppt, .pptx, .xls, .xlsx. If you wish to submit a resume and a cover letter, please combine them into one document file.
Once you have chosen a file, the upload will begin immediately. A spinner will be displayed to indicate that your file is uploading. The upload can be cancelled at this time by pressing the cancel button.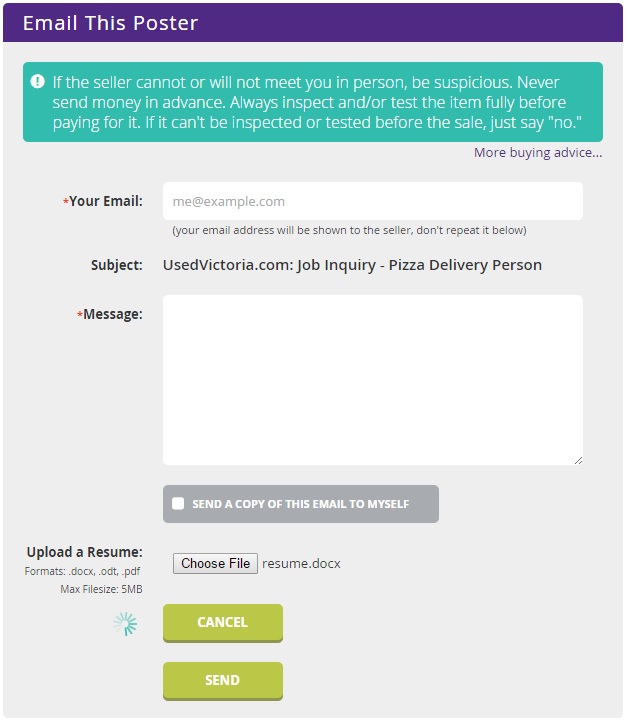 While the file is uploading, you won't be able to submit the form. Once the upload is finished, the form will display a message indicating that the upload was successful.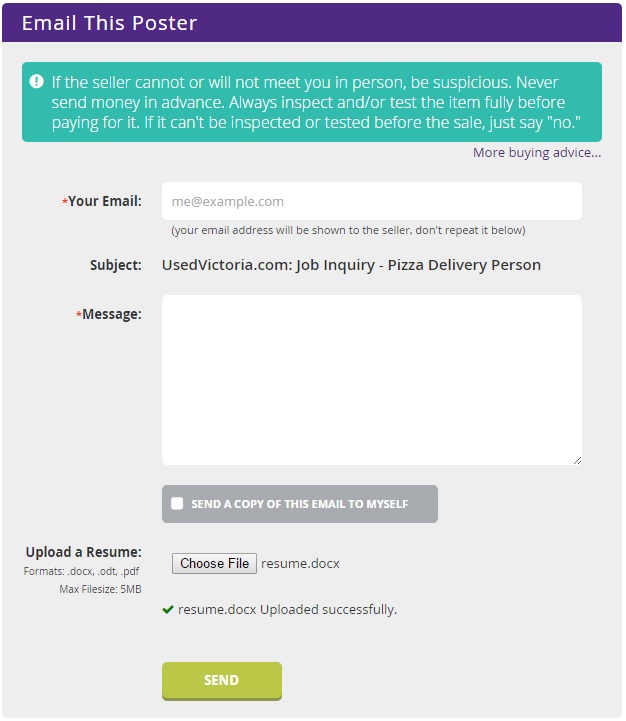 Please make sure the email address and message field are completed, then just hit send!
Post an ad
Two ways to post an ad:
Click on Place Ad on the navigation bar and follow the instructions for choosing a category:

Or, browse to the category in which you want to place your new ad and click on the link Place Ad in this Category:
Adding a map to your ad: A map is included in ads that provide a valid postal code. The map shows the approximate location of that postal code. By providing this information, you'll have fewer queries to respond to before completing the sale. To add a map to an existing ad, simply edit your ad and enter your postal code into it.
Note on the ad password: When you are prompted for a password, you are choosing a password to assign to the ad. You will need this password later to edit your ad. Choose the same password for all your ads. Do not choose a password that you use on other websites for critical functions because this website takes no special measures to encrypt it.
Edit an ad
To edit an ad:
First, browse to the ad (or navigate to the ad by viewing just your own ads, clicking the My Ads link in the navigation bar) and click on the ad title to see the details. Then scroll to the bottom of the ad and click Edit My Ad: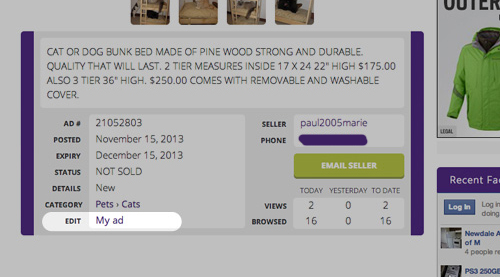 Change your price, description, etc. and type your password before clicking the 'Update Ad' button. Then, if your password is correct, your ad will be changed and you'll be given the opportunity to ad new photos or update your existing photos.
Delete an ad
To delete an ad:
Edit your ad and change the status from 'NOT SOLD' to 'SOLD'.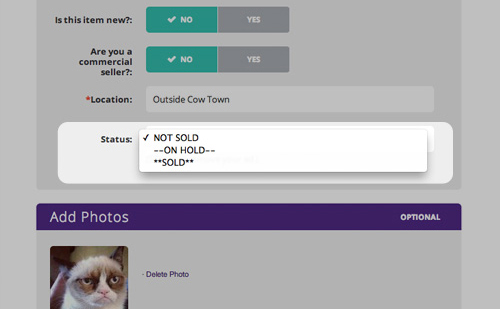 Add a photo to an existing ad
To add a photo to an existing ad:
Edit your ad and click the 'Verify Password' button without making any changes. Then you will be presented with the photo upload screen. Please reduce the size of your photos before uploading - 640 by 480 is ideal.
Recover forgotten password
To recover a forgotten password:
First, browse to the ad (or navigate to the ad by viewing just your own ads, clicking the My Ads link in the navigation bar) and click on the ad title to see the details. Then click the 'My ad' link beside the 'EDIT' label located on the details found below the description of the ad.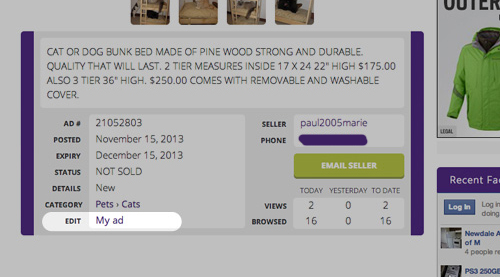 You will be sent to a new page to edit this ad, scroll down to the bottom and click the "Forgot your password?" link and enter your email you used to recover your password.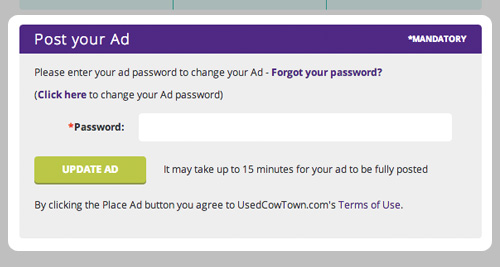 Dealing with buyers
What to do if a buyer wants to buy your item:
Arrange a time and place for the buyer to visit you
Plan it so that you are not home alone
Have the item ready to test (i.e. if an electronic good, have it plugged in ready to test).
Ask for cash; only accept a cheque or money order if you can wait for it to clear before giving the item to the buyer.
What the counters mean
What the counters in each ad mean:
Counters are kept for all ads. To see the counters for an ad, scroll down to view the details of the ad. The counters are shown near the bottom of the ad, for example:
The counters are updated once an hour. Three sets are shown: the 'Today' numbers are for the current partial day; the 'Yesterday' numbers are the prior whole day; the 'To Date' numbers are from the time the ad was posted.
In each set of counters there are two numbers: the 'browsed' number shows the number of times the ad was viewed within its category and on the Latest Ads list; the 'viewed' number shows the number of times an ad was opened to view further details.
AdBooster features
When you buy an AdBooster upgrade, your ad will receive the following awesome features:
Your ad will be highlighted in a teal box to make it stand out from the regular ads (see example)
Your ad will be boosted back to the top of the ad category (just under the Featured Ads and Top Ads). AdBooster ads will continue to descend in the category as new ads are posted
It's like a do-over for your ad!
Limitations:
The Terms of Use applies to AdBooster upgrades
Due to the nature of the upgrade, no refunds will be issued
Gallery Ad features
At the top of Latest Ads list is a horizontally scrolling box containing special ads called the Ad Gallery.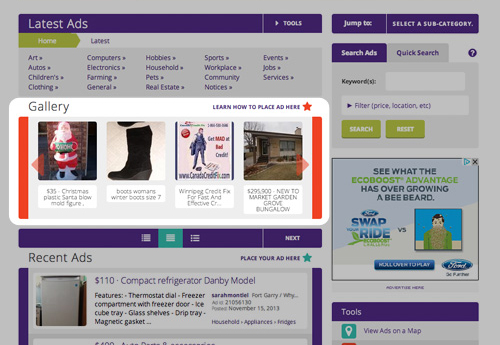 When placing an ad you have the option to upgrade your ad to the Gallery Ad by selecting the Ad Gallery option. You may also upgrade an existing ad to a gallery ad by editing the ad and selecting an Ad Gallery option.
November 2008 study found that Latest Ads gallery ads received 112 times more exposure than basic free ads.
The order of the ads in each Ad Gallery is randomly chosen and updated every 10 minutes.
Limitations:
Having an ad in the Ad Gallery doesn't give you any special privileges other that those listed above. The regular Terms of Use still apply. For example, if your ad is posted into the wrong category your ad may be moved.
Due to the nature of the upgrade, no refunds will be issued.
Top Ad features
At the top of the first page in every ad list is a group of ads that receive extra exposure - the 'Top' ads.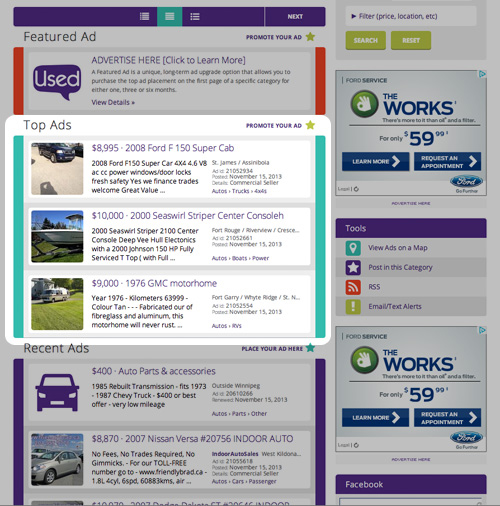 Details:
There are a maximum of three Top Ads shown. If there are more than three Top Ads in your category, three will be chosen randomly.
You can buy the Top Ad position for 3 or 5 days for Stuff ads, and 5 or 10 days for Info ads. When it expires, you will be emailed a notification and an invitation to renew.
Your ad still gets all the benefits of a regular free ad, including appearing on the Latest Ads list. When your Top Ad placement expires, your ad will still be active as a regular ad for the duration (in most categories for 30 days).
Your ad will show as a Top Ad on the first page in its category and on the first page in all its parent categories. For example, if you post in category 'Passenger Cars', your ad will be shown as a Top Ad there, and in its parent category 'Cars, Minivans, SUVs', and in its parent's parent 'Automobiles & Other Vehicles'.
You still must follow the Terms of Use - for example you can only post one ad per item.
Note that it may take fully 10 minutes for your ad to appear as a Top Ad in its category.
Featured Ad features
Featured Ads are premiere upgrades. There is only one Featured Ad per category and sub-category. Each one appears above all other listings, including Top Ads. This means, that if you purchase a Featured Ad in the category "Passenger Cars" for 3 months, you would be the first ad that every visitor saw in that category's listing for the next 3 months. As such, Featured Ads can potentially provide you with the highest listing exposure out of all the upgrade options.
Details:
Only ONE Featured Ad per (sub)category
Premium placement - top of first page, above free ads and Top Ad upgrades
Update your ad information whenever you want, in real-time
Only upgrade that offers one, three or six month options
Buy 3 months | Get 10% Off
Buy 6 months | Get 15% Off
Purchase 3+ categories on one or more sites and you receive an additional 5% discount
*Note: Each (sub)category is exclusive and separate from others. If you wish to show up in multiple categories, you will need to purchase each one separately. For example, if you want to appear in "Passenger Cars", "Trucks & Vans", and "4x4s", you would need to purchase 3 Featured Ads.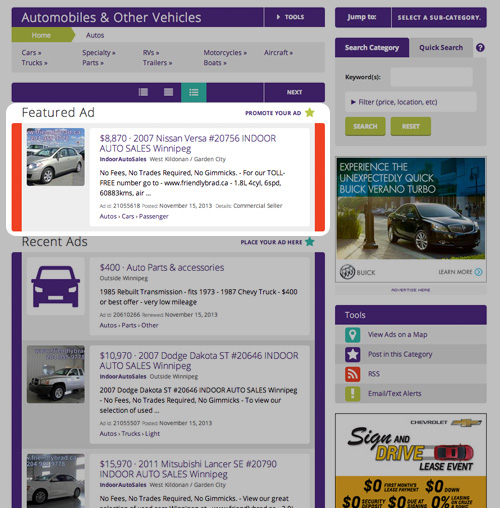 Privacy Shield
Ontario only. Privacy Shield privacy protection service provides a seller with a masked email address and phone number for their listings so that their real email and phone number are not provided to potential buyers. All phone calls and email correspondence are forwarded to the seller's current phone number and email address. Privacy Shield protects you from solicitors, spammers and fraudsters.
The fee for this service is $1.99 for a 30 day period. Privacy Shield product operates on a monthly recurring subscription program. For cancellation of your subscription, please contact them at info@privatis.com with a written request to cancel your subscription. You should include your name, real email address, real phone number and the effective date of cancellation. Please note that all subscriptions are for a full calendar month and no prorated refunds will be applied.
Registering
Sign up for an account
To sign up for a Used.ca account:
From the home page, click "Sign Up" on the top-right hand side of the page.
Enter your desired username, your email address, and a new password. You will use this information to sign in later, so write it down somewhere safe!
You also have the option of including your postal code, location, and phone number.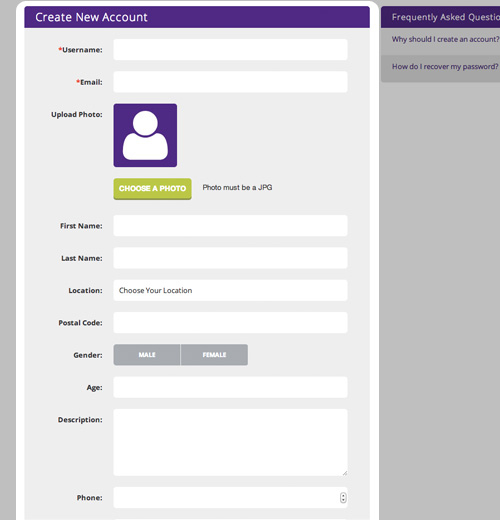 An email will be sent to your address. Click on the link provided in the email and your account will be activated.
If you currently have ads posted on your local Used.ca and you would like those ads to be linked to your account, you may edit your Used.ca account to do so. Update your account on the Setting page and ensure that the box next to "Link your existing ads to this new account?" is checked off.
Sign in to an account
To Sign in to a Used.ca account:
From the homepage, click "Log In" on the top-right hand side of the page.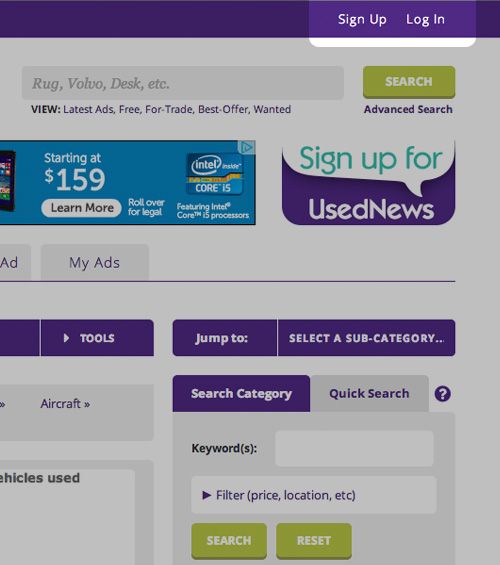 Enter the username or email address that you used to register your account as well as your password in the appropriate fields. Then click "Sign In" below.
After several failed login attempts you will be presented with a CAPTCHA image. Retype your username/email and password, and then enter the words you see in the image in the appropriate field. If you are unable to read the CAPTCHA, click on "Get another CAPTCHA." Alternatively, click on "Get an audio CAPTCHA" for an audio version.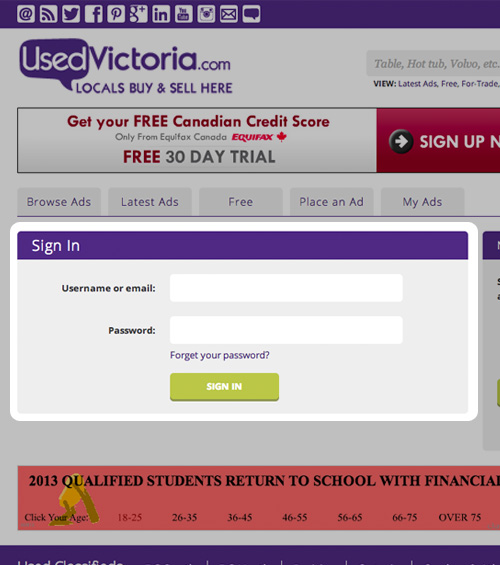 Recovering an account
To recover your password:
From the homepage, click "Sign In" on the top-right hand side of the page.
Click on the "Forget your password?" link beside the Password field.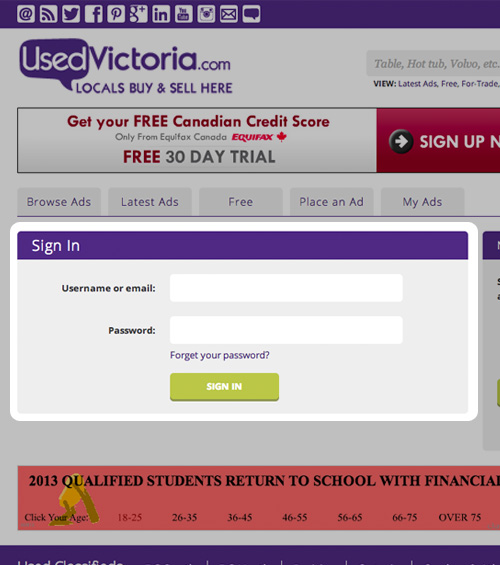 Enter your email address. An email will be sent to you with instructions on how to update your password. Click on the link provided in the email.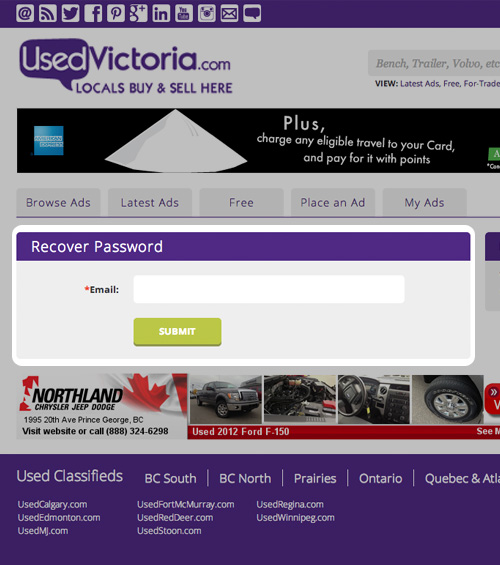 You will be presented with two password fields. Enter your new password and confirm it, then click "Submit."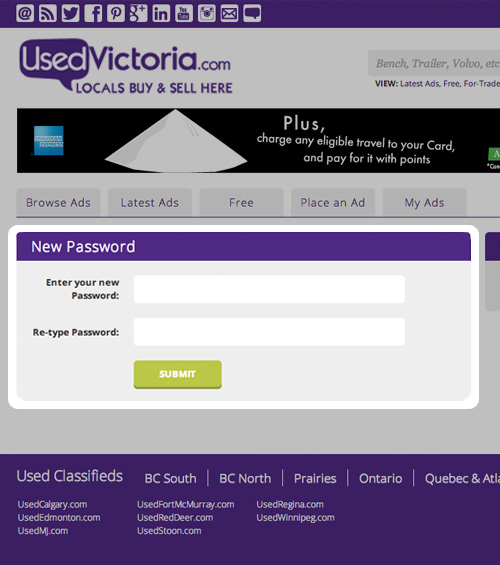 Modifying an account
To modify your account information:
From the homepage, sign in to your account or click on your username on the top-right hand side of the page.
You will be presented with your user dashboard. Click on the "My Profile" tab.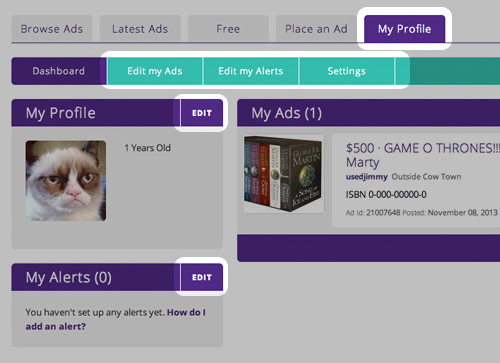 Lastly, edit the fields that you would like to change and click on the "Submit Changes" button at the bottom of the page.
Note: If you modify your email address we will send a message to your address and you will need to confirm the change.
Posting or modifying ads
When placing an ad while logged in to your Used.ca account:
You no longer need to enter your contact information for each post.
You no longer need to enter a password.
Your ads will now show up on your User Dashboard
To edit an ad you placed while logged in to your Used account:
From the homepage, sign in to your account or click on your username on the top-right hand side of the page.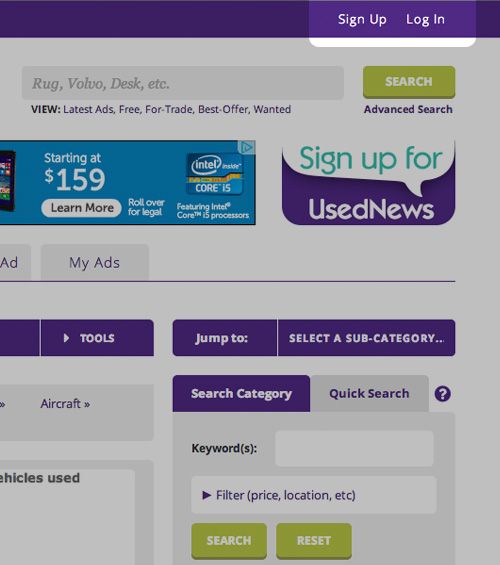 Locate the ad that you would like to edit and click on the "Edit" link under the Options column.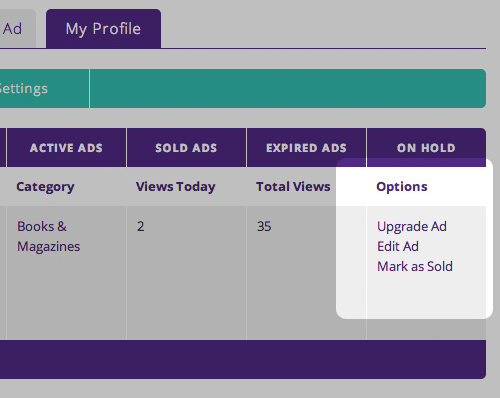 Edit the fields that you would like changed. When you are done, scroll down to the bottom of the page and click on the "Update Ad" button.
Alerts
When you sign up for an Alerts, we will send you an email when a new ad is placed in the categories of your choosing.
To sign up for Alerts:
Navigate to the category that you would like to keep an eye on. You can find a broad list of our categories on the home page.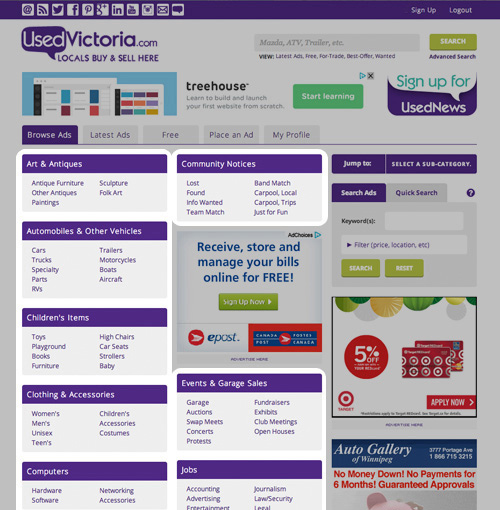 Click on the "Email Alerts" button in the My Tools box on the right-hand side of the page.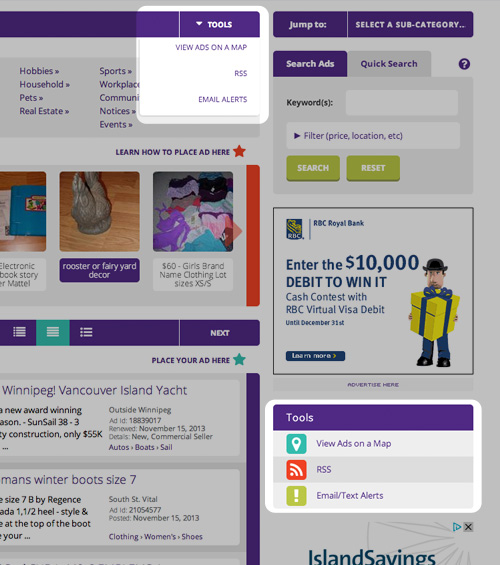 If you are logged in to your Used account your information should already be visible. If not, fill in the appropriate fields. Then, click "Submit" button.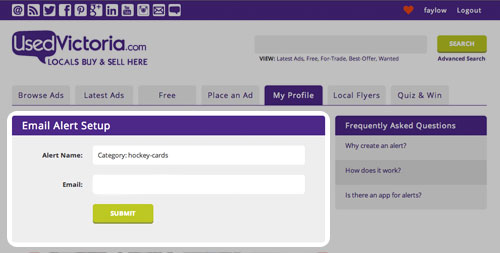 You will receive an email confirming your selection. Remove or edit Alerts by clicking on the "Alerts" tab of your User Dashboard.
Favourites
Keep track of Ads, Sellers and Searches by favouriting them on our site. This can be done by simply clicking the heart , once it turns red, you just favourited an item. Click again to remove.
To view your favourites, simply click the red heart at the top right of web page or "Tools > Favourites" in the ad listing page.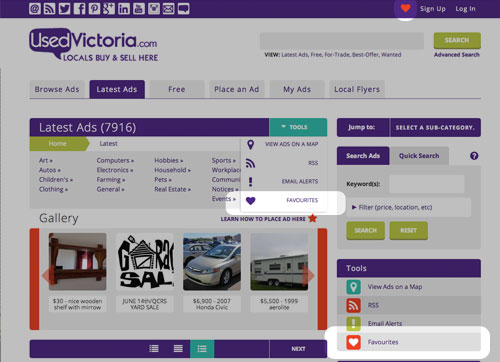 Ad favourites allow you to quickly save the ads you may are interested in and compare them to other ads. Hearts can be located on any category listing or ad page.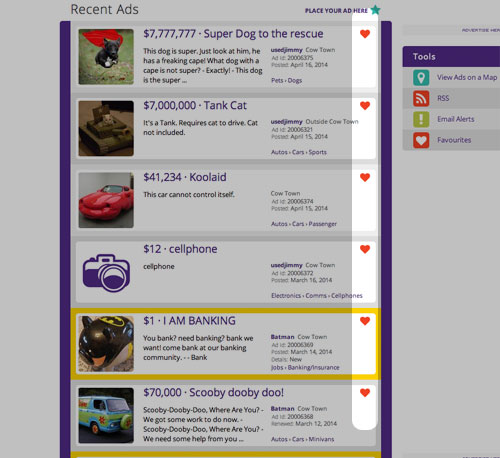 Seller favourites provides you a quick glimpse of a sellers recent ads as well as a direct link to a seller. Hearts are located on the seller profile page, or on the ad page under 'Contact Seller' box.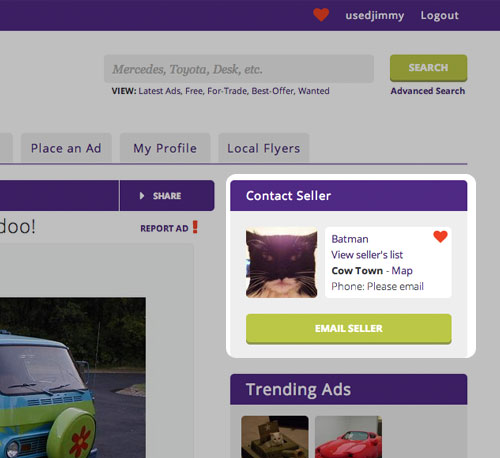 Search favourites saves the search paramaters you setup and saves you the trouble of having to re-enter the same parameters on different visits. Hearts are only found after a search is made and located below the search title bar and right of the breadcrumbs.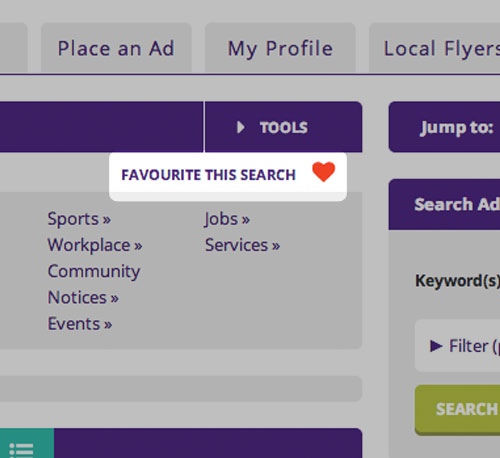 Favouriting is only compatible with javascript enabled on HTML5 browsers.